Gratin is originally from France. But this dish is very popular in Japan. It looks like a casserole in the United States. This dish has very rich creamy flavor. It's great to serve your family and friends for holiday celebrations.
Ingredients (2 - 3 plates):
1 small package of shrimp (198g, 7oz)
a half can of sliced mushrooms (113g, 4oz)
2 potatoes
1 onion
1 cup of frozen *Edamame (if you like)
300ml (10.1 floz) of heavy cream
1 tablespoon of butter
2 cubes of *Japanese consomme
2 tablespoons of flour
1 teaspoon of salt & pepper
1 cup of shredded cheese (I used shredded cheddar cheese)
1 tablespoon of olive oil
*Edamame is a Japanese dish and a type of soybean that is steamed or boiled in the pod.
*Japanese consomme is made of vegetable extract, beef extract, chicken extract, yeast extract, soy sauce, salt, sugar and so on. It is similar to vegetable, chicken and beef stock. -> See picture A.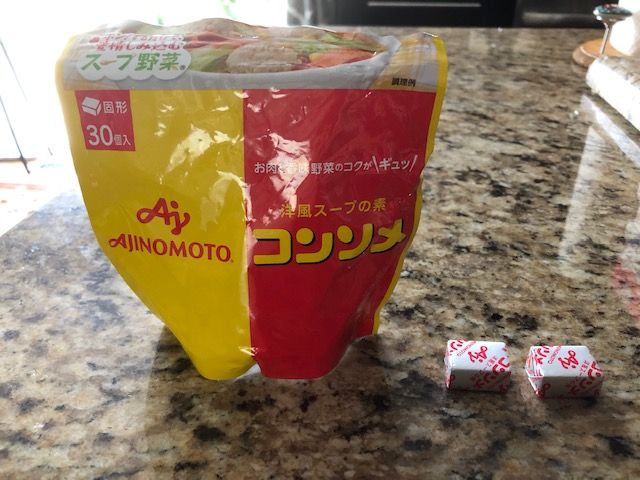 Here is how to make it at home. Cooking time is about 50 minutes – 1 hour.
Cut potatoes into bite size chunks and slice onions. Remove tails of shrimp.
Put the potatoes into a glass container and microwave for about 4 minutes.
Preheat olive oil in a frying pan with medium heat. Stir shrimp for about 3-5 minutes or until it's fully cooked. Remove from heat and place in a small plate.
Heat the olive oil in the frying pan with medium heat again and stir onions and mushrooms for about 5 minutes or until onions are little soft.
Add heavy cream, butter, *Japanese consomme and flour in the frying pan. Mix up and stir very well for about 5 minutes or until the cream is thick.
Add the potatoes and stir for 3 minutes. Add salt & pepper. Remove from heat. -> See picture B.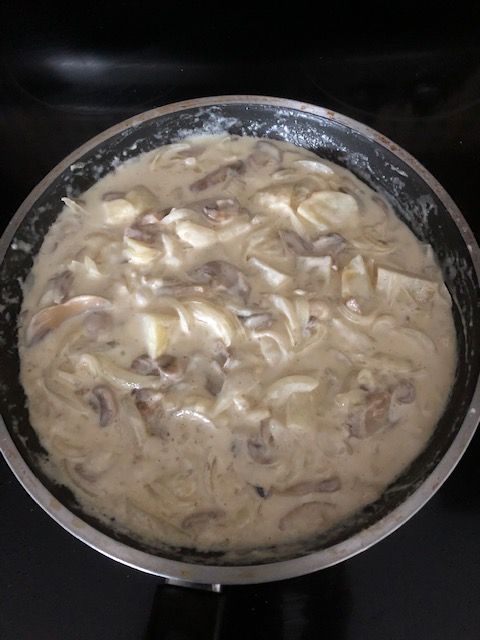 Put frozen *Edamame in a small container and microwave for 1 minute.
Put 6. , shrimp, inside edamame beans into a glass baking dish. Sprinkle the shredded cheese on top. -> See picture C and D.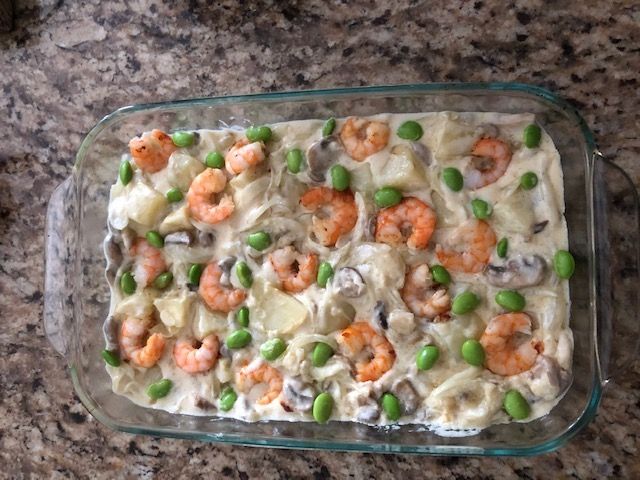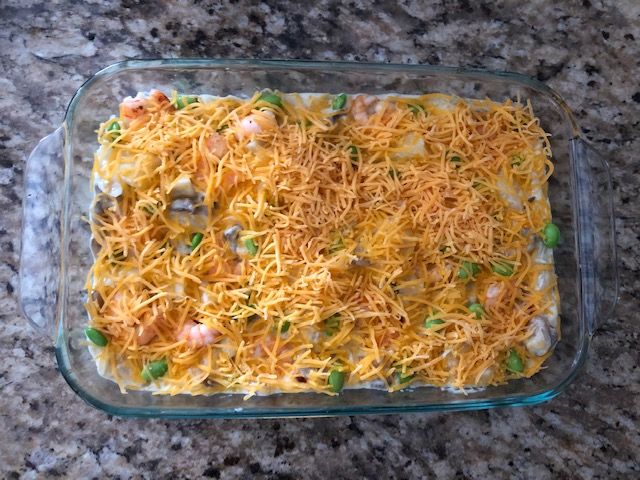 Heat 8. in an oven with 250 degree Celsius (482 Fahrenheit) for about 20 minutes without preheat. Remove from heat. (My oven didn't reach 482 Fahrenheit within 20 minutes, but I removed from heat exactly 20 minutes later. Cooking time depends on ovens. Please check your dish occasionally.)
Leave for about 2-3 minutes to cool it down little and serve the gratin on a plate.