Don (Donburi) means a bowl of rice topped with a variety of meat, fish, egg, and vegetables. Fresh salmon is one of the most popular toppings for donburi.
However, I found that it's hard to get the fresh salmon at grocery stores in abroad.
I would like to introduce the smoked salmon don instead. If you would like sushi or smoked salmon, I highly recommend making this dish at home!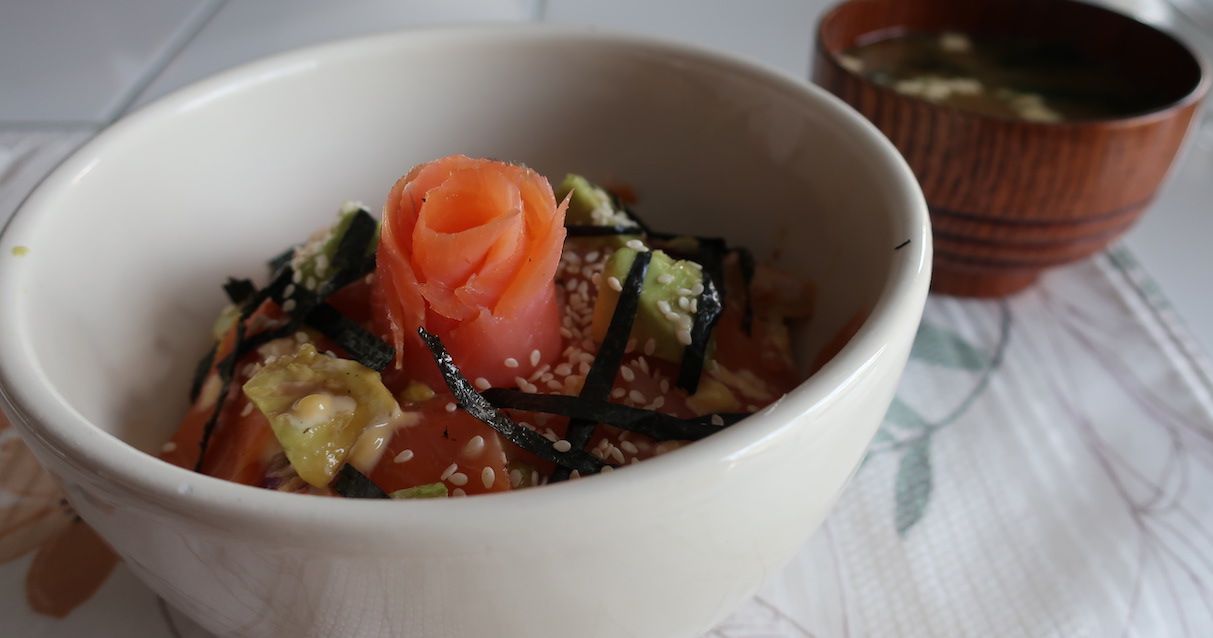 Ingredients (2 bowls):
1 package of smoked salmon (113g, 4oz)
1 avocado
1 small sheet of *Nori (seaweed)-> You can substitute with 1 small sheet of seaweed snack
1 teaspoon of white sesame
2 tablespoons of sushi vinegar
2 teaspoons of sesame oil
rice for 2 people
2 tablespoons of soy sauce
1 tablespoon of mayonnaise
a half teaspoon of *wasabi (spicy green paste)
a quarter bag of lettuce or mixed salad (If you like)
Here is how to make it at home. Cooking time is about 25-30 minutes.
Cook rice, in the meantime, cut the avocado into bite size cubes, slice the smoked salmon into about 2cm (0.8 inches) wide, about 4cm (1.6 inches) long and roll 2 each sliced salmon as a flower. Make 2 smoked salmon flowers. Cut seaweed into 0.5cm (0.2 inches) wide, 4cm (1.6 inches) long by scissors.
Mix up soy sauce, mayonnaise and *wasabi.
After the rice is fully cooked, add the sushi vinegar into the rice and mix it up. Then, cool it down for about 5 minutes. Add the sesame oil.
Put the rice in a bowl. Add the lettuce or salad mix on top of the rice. Add the smoked salmon on top and put the smoked salmon flower in the center of the bowl.
Add the avocado. Pour 2. sauce. Sprinkle the white sesame and the seaweed on top.