You can see a lot of Yakitori vendors at summer festivals in Japan. This dish is also very popular to eat with a glass of beer. If you are interested in Japanese beer, please see my friend's beer page on Facebook HERE. He suggested that if you have access to a Japanese supermarket, then Baird Numazu Lager or Angry Boy Brown Ale from Shizouka, Hitachino Nest Lager or Pale Ale from Kuichi Brewery in Ibaraki, or Yona Yona Ale from Yo-Ho Brewery in Nagano would be great with Yakitori. Also other than the Japanese beer, you can enjoy Yakitori with a refreshing beer like Dogfish Head's SeaQuench or Namaste White Ale in summer. There are a lot of Izakaya (Japanese pub which serves food as well) that offer a variety of Yakitori. You can eat Yakitori with tare sauce or salt. Yakitori is usually cooked over charcoal, but I will introduce the most authentic Japanese Yakitori which you can make with a frying pan easily at home.
Ingredients (2 plates):
3 chicken thighs
white part or hard part of 2 - 3 green onions
7 bamboo skewers
1 teaspoon of vegetable oil
1 clove of garlic
1 teaspoon of shredded ginger or ginger paste
6 tablespoons of soy sauce
3 tablespoons of sugar
1 tablespoon of honey
1 teaspoon of *Shichimi togarashi (Chili flakes) -> See picture A.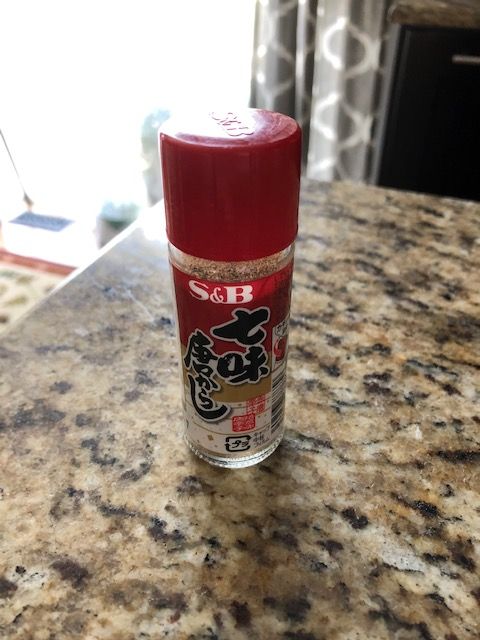 Here is how to make it at home. Cooking time is about 25 - 30 minutes.
Cut chicken thighs into bite size chunks and put them into a resealable plastic bag. Cut garlic into small pieces. Put the garlic and the shredded ginger into the bag. Mix them up, marinate them and leave in a refrigerator for 5 minutes. -> See picture B.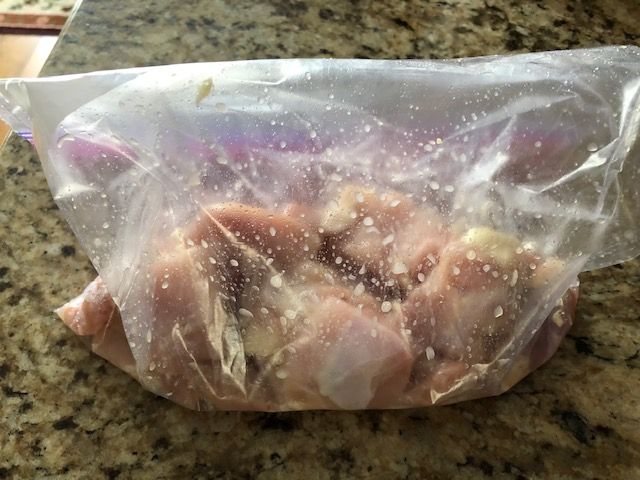 Meanwhile, put soy sauce, sugar, honey and *Shichimi togarashi in a small bowl. Mix thoroughly -> See picture C.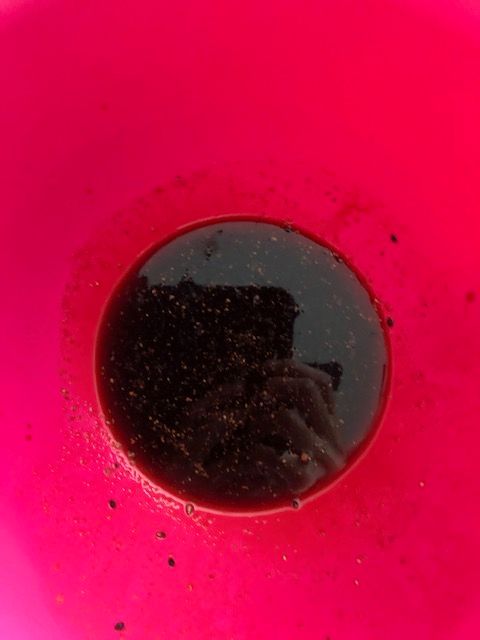 Cut green onions 4cm (1.6inches) long and make 14 pieces as shown in a picture. -> See picture D.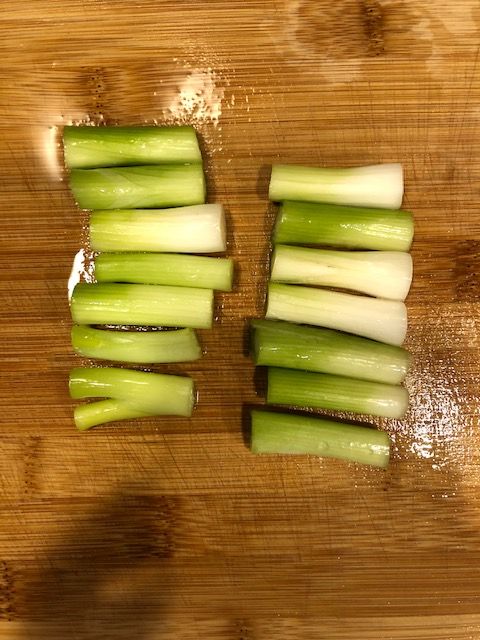 Put a chicken thigh on a skewer followed by a green onion and then alternate between the chicken thigh and the green onion as shown in the picture. -> See picture E.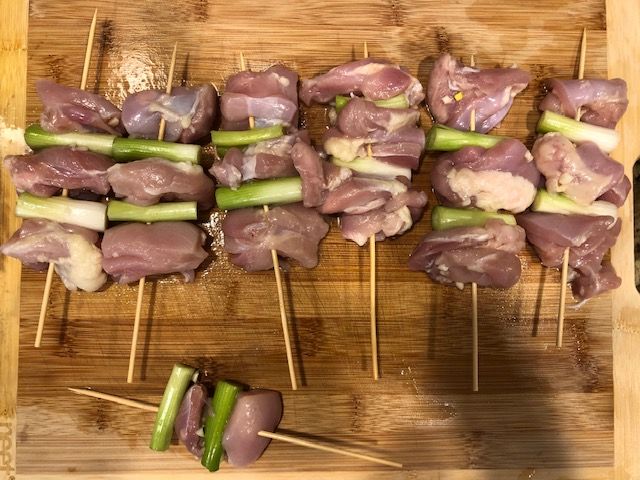 Heat vegetable oil in a frying pan with medium heat. Put skewers into the frying pan. Cover with a lid and simmer for 10 minutes or until the chicken turns a little brown. Remove the lid, flip over the skewers and simmer for another 5-10 minutes or until the chicken is a little brown. -> See picture F & G.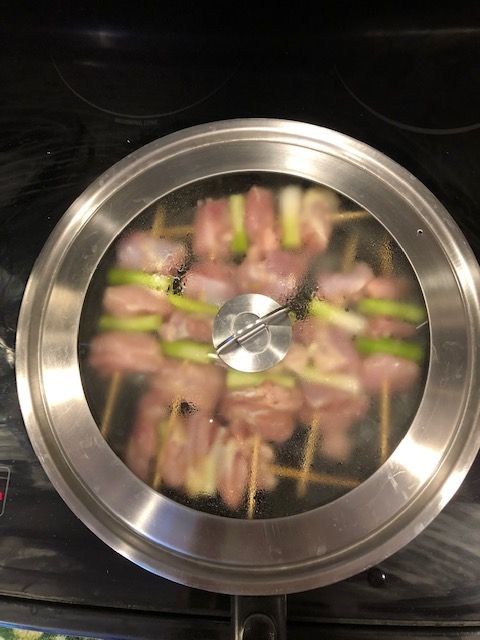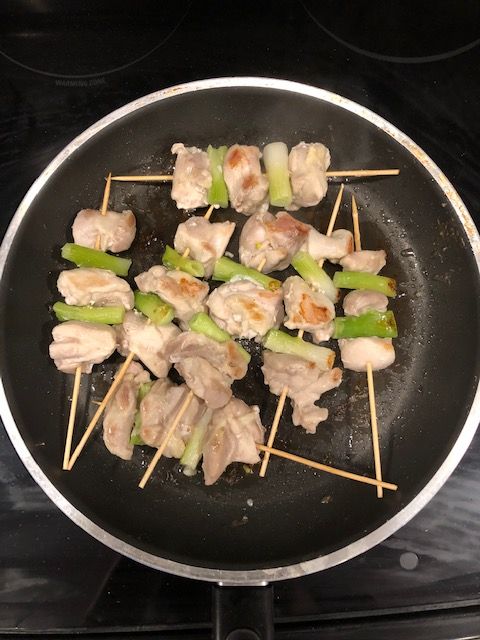 Put sauce from step 2 into the frying pan with medium heat. Flip over the skewers occasionally. Simmer until the sauce is almost evaporated. (Cooking tip: Do not overheat the sauce, if it's overheated, the sauce will be bitter.) -> See picture H & I.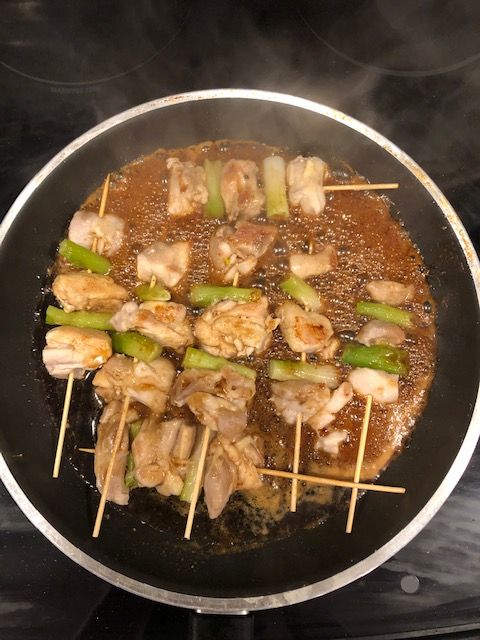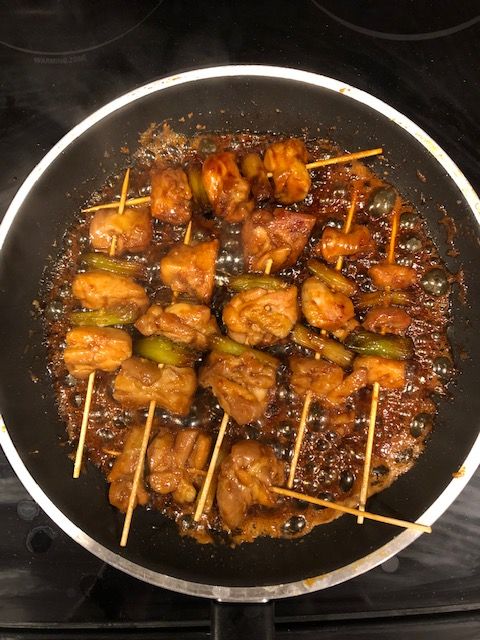 Put the skewers on a plate and pour the sauce on top.