Loco moco is a famous comfort food in Hawaii. It consists of white rice topped with a hamburger (I used the leftover Japanese hamburg), a sunny side up egg (a fried egg), and brown sauce. Japanese people are familiar with this dish. Due to the fact that Hawaii is one of the most popular destinations for Japanese tourists.
Ingredients (For 2 bowls):
2 Japanese hamburg patties (Picture A)
2 x 1 teaspoon of vegetable oil
1 teaspoon of salt & pepper
2 eggs
a half can of sliced mushrooms (113g, 4oz)
2 tablespoons of ketchup
1 tablespoon of butter
2 tablespoons of Worcestershire sauce
2 tablespoons of sugar
3 small slices of cucumber
small amount of salad mix or lettuce
rice for 2 people
a half green onion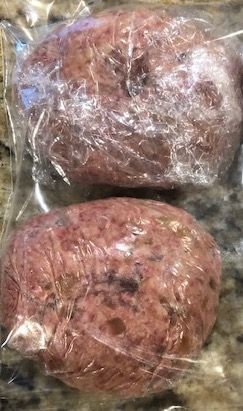 Here is how to make it at home. Cooking time is about 30 - 40 minutes.
Cook rice. Cut the sliced cucumber into half-moon shapes. Chop green onion into small pieces.
Preheat vegetable oil in a frying pan with medium heat, put eggs in the pan and make sunny side up eggs (fried eggs). Remove from heat.
Preheat vegetable oil in another frying pan with medium heat. Put Hamburg patties into the pan, cover a lid and simmer about 5-7 minutes or until the top becomes dry.
Flip over and simmer with the lid about 5-7 more minutes or until meat is fully cooked.
Meanwhile, heat ketchup, butter, Worcestershire sauce and sugar in a small pot with medium heat. Add mushrooms. Stir thoroughly for about 5 minutes. Remove from heat. (I made the mistake of putting green beans in the sauce. But please don't do that.)
Put the rice into a bowl, add the hamburg, the sauce, the sunny side up egg, the green onion, the cucumber, and the salad mix on top.