Udon noodles can be cooked in different ways. Yaki in this dish means "stir-fry" in Japanese. I will introduce stir-fried Udon noodles for your variety of dishes. This dish is easy to make and has great savory flavor.
Ingredients (2 plates):
200g (a half pound) thin pork
1 onion
1 carrot
1/4 small cabbage
1/2 cup of *Hontsuyu
2 bags of Udon noodles with soup powders
1 & 1/2 cups of water
1 small package (2.5g, 0.09oz) of *Katsuobushi
1 teaspoon of vegetable oil
1 teaspoon of salt & pepper (if you like)

*Hontsuyu is a soup base for noodles. It is basically fish extract, bonito extract, kelp extract, sugar, salt and mixed with soy sauce.
*Katsuobushi is bonito flakes.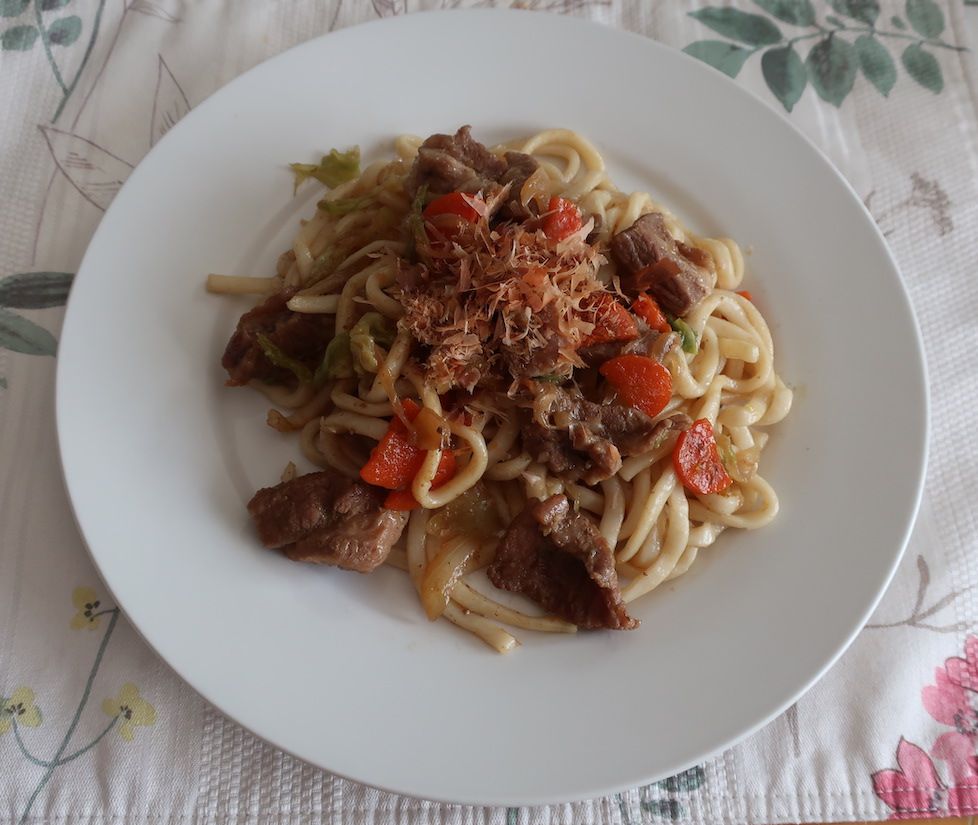 Here is how to make it at home. Cooking time is about 15 - 20 minutes.
Cut thin pork into bite size chunks, a carrot into small half-moon shapes. Slice an onion and a cabbage.
Preheat vegetable oil in a large frying pan with medium heat. Stir the thin pork first, then, the cabbage, the onion and the carrot for about 5-7 minutes or until the thin pork and vegetables are soft. Put the pork and vegetables on the side of the frying pan.
Add water, soup powder and *Hontsuyu in the frying pan. After soup powder is dissolved, add Udon noodles, dissolve the noodles with chopsticks, cover a lid and simmer about 1 minute, remove the lid and stir about 3-5 minutes or until the soup is evaporated.
Add salt and pepper (if you like), put the noodles onto a plate and sprinkle *Katsuobushi on top.