"Toshi Koshi Soba" is a Japanese traditional dish which Japanese people normally eat on New Year's Eve. This custom of eating Soba noodles on New Year's Eve dates back to the Edo period in Japan. There are a lot of theories why soba is popular on New Year's Eve. For example, Soba noodles are very long and thin, therefore it grants you a long life. Soba noodles are easy to be cut, therefore it gets rid of bad luck, loans and other burdens. Some people believe eating Soba is good luck. "Soba" in Japanese means both "noodles" and also "close to" in English. Some Japanese people believe if you ate "Toshi Koshi Soba" on New Year's Eve, good luck and your family would be close to you in New Year.
"Kakiage" is a kind of Tempura that normally consists of seafood and/or vegetables.
You can put anything you like on top of "Toshi Koshi Soba". I'll introduce "Kakiage and shrimp Tempura Toshi Koshi Soba" that you can cook at home easily. If you are curious, check out the Tempura and Soba noodles recipes.
Ingredients (2 bowls, **I could make more than 2 servings' Kakiage and shrimp Tempura):
1 US cup of *Tempura batter mix
3/4 US cup of ice-cold water (for Tempura batter mix)
A half depth of your deep-frying pan of vegetable oil or sesame oil or olive oil
1 *Gobo (Burdock root)
1 carrot
1/2 onion
227g (8oz) shrimp (I used cooked shrimp)
2 bundles of *Soba noodles
1/2 green onion
1 small sheet of *Nori
150ml (5floz) of *Hontsuyu
450ml (15.2floz) of water (for noodle soup)
1500ml (50.7 floz) of water (for boiling)
*Gobo is a burdock root which is widely used for Japanese cooking. It has sweet and mild taste. When you cook it as a Tempura, it has a crispy texture.
*Nori is an edible seaweed. Japanese people use Nori for Sushi, Onigiri (rice ball), topping of cooked rice and so on.
*Hontsuyu is a soup base for noodles. It is basically fish extract, bonito extract, kelp extract, sugar, salt and mixed with soy sauce.
-> See picture A, B, C and D.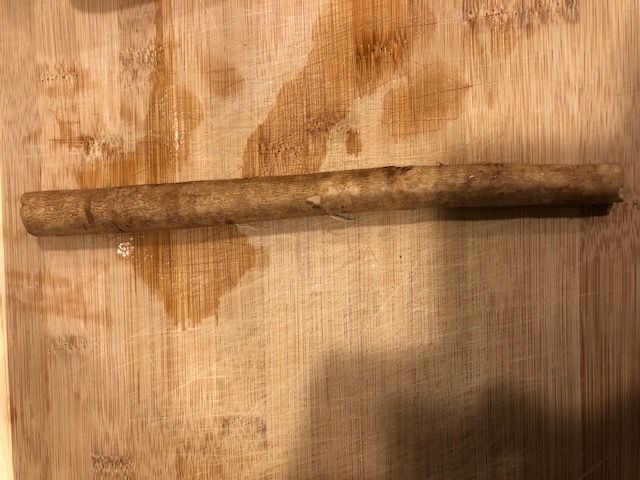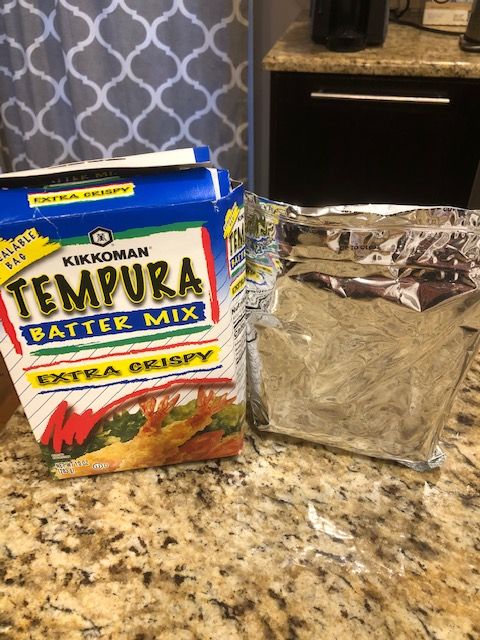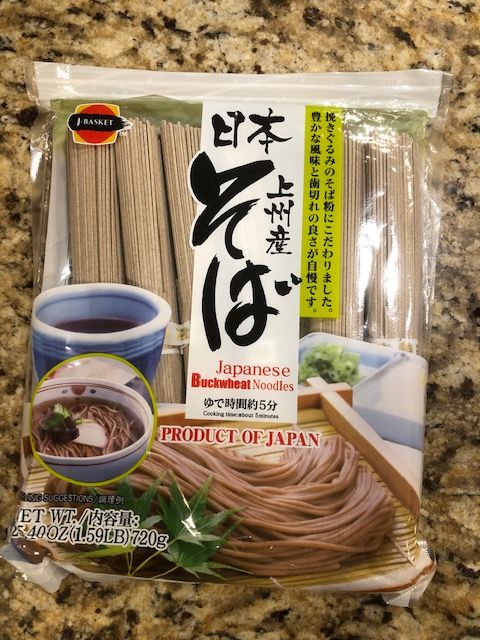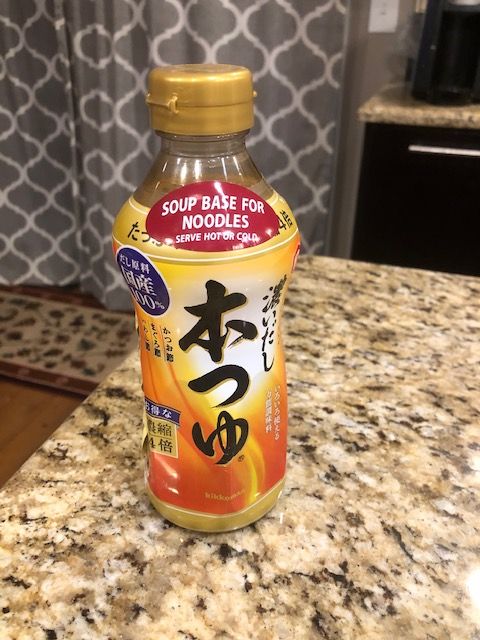 Here is how to make it at home. Cooking time is about 35 - 45 minutes.
Preheat oil in a deep-frying pan with medium heat up to 180 degree Celsius (356 degrees Fahrenheit).
Meanwhile, peel and cut Gobo and carrot into 2.5 inches lengths and thin as shown in the picture. Slice onion. -> See picture E.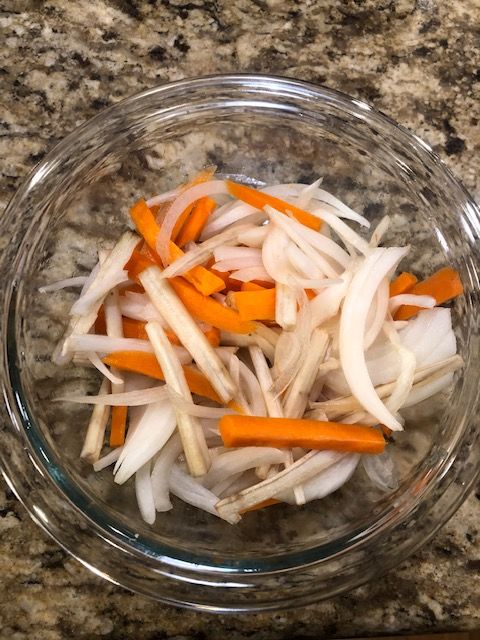 Put *tempura batter mix and ice-cold water in a medium to large bottom flat container or glass tray and mix up thoroughly. -> See picture F.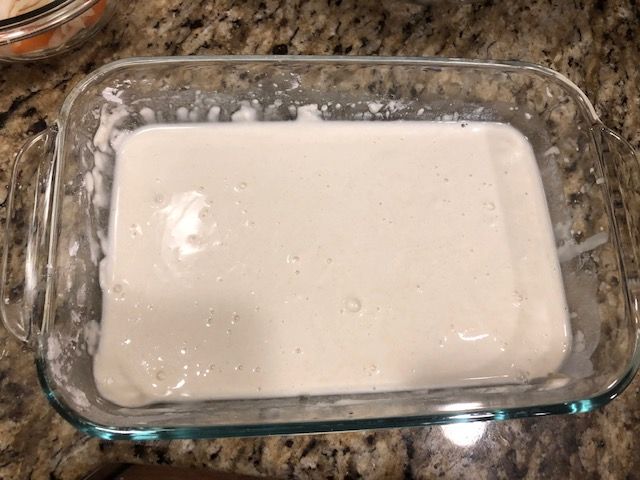 Prepare other bottom flat containers with kitchen paper towels on top to remove excess oil from tempura after deep-frying.
Pat and dry shrimp with kitchen paper towels.
After the oil reaching hot temperature, dip vegetables from step 2. using with a ladle into tempura batter thoroughly, make it as an oval shape, and quickly put into the deep-frying pan as shown in pictures. Deep-fry 2 - 4 minutes or until the vegetables are fully cooked and golden brown. Flip over them once during deep-frying. Remove from heat and put them into containers from step 4. Remove excess oil from Kakiage using with kitchen paper towels. -> See picture G, H, I and J.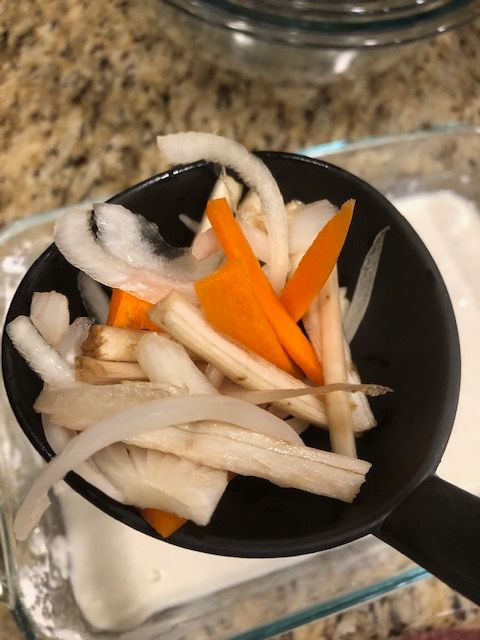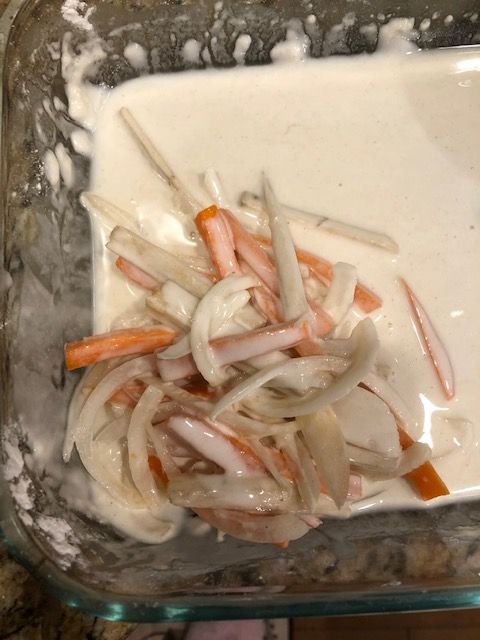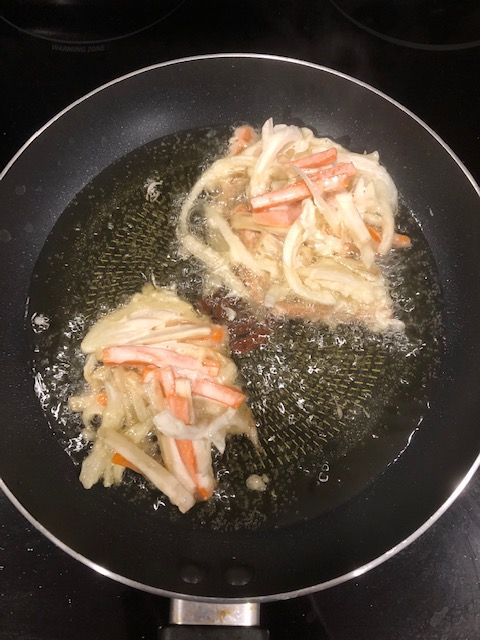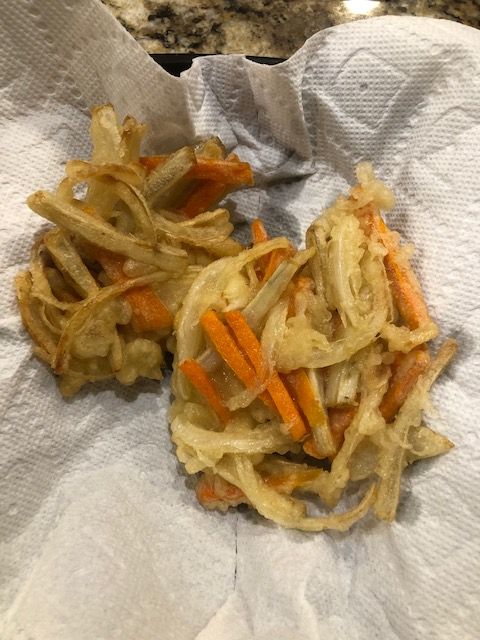 Skim off cooked batter pieces from the oil. Repeat step 6. for shrimp. -> See pictures K, L, M and N.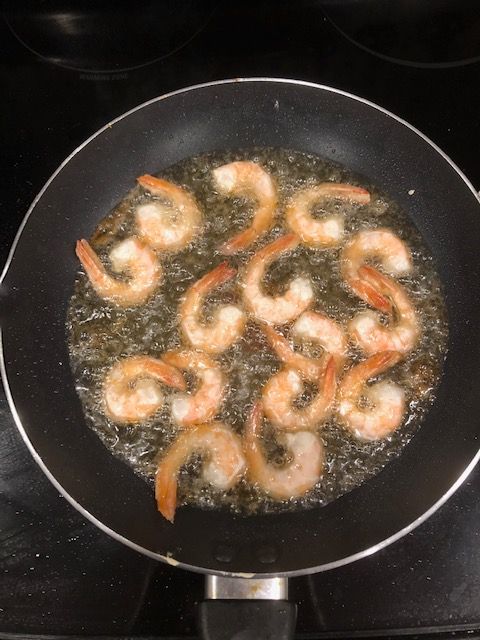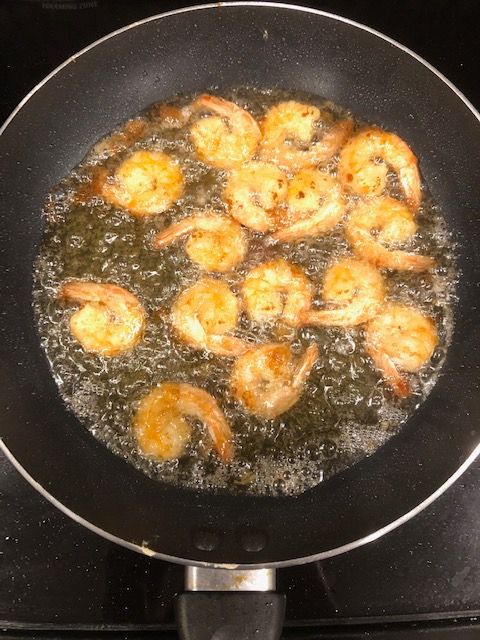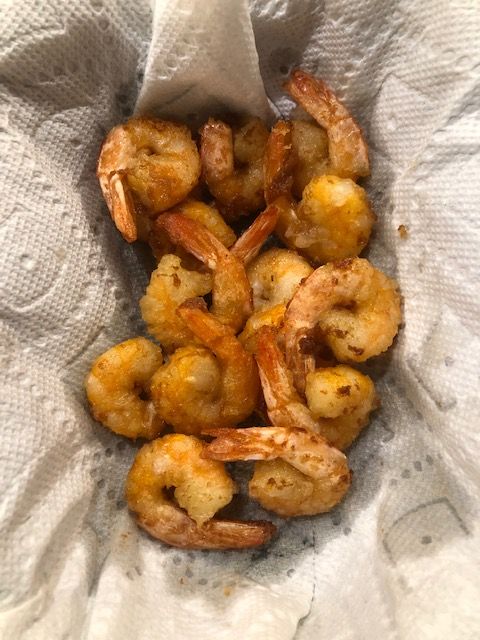 Boil 1500ml (50.7 floz) of water in a large pot with medium heat.
Meanwhile, chop green onion into small pieces. Cut *Nori into 4cm (1.6inches) long, 5mm (0.2inches) wide by scissors.
Put *Hontsuyu and 450ml (15.2floz) of water in a small or medium pot with medium heat. Bring to a boil. Remove from heat. -> See picture O.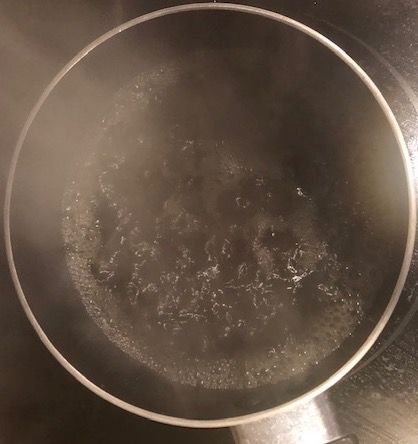 Put *Soba noodles into the large pot from step 8. and simmer with a lid for 5 minutes. Loosen the noodles with chopsticks occasionally. Remove from heat. Put the noodles in a strainer basket (and bottom is a large bowl) and in cold water for 1 minute or until all noodles are cold to tighten noodles. Right before eating Soba noodles, put Soba noodles into hot water. -> See picture P.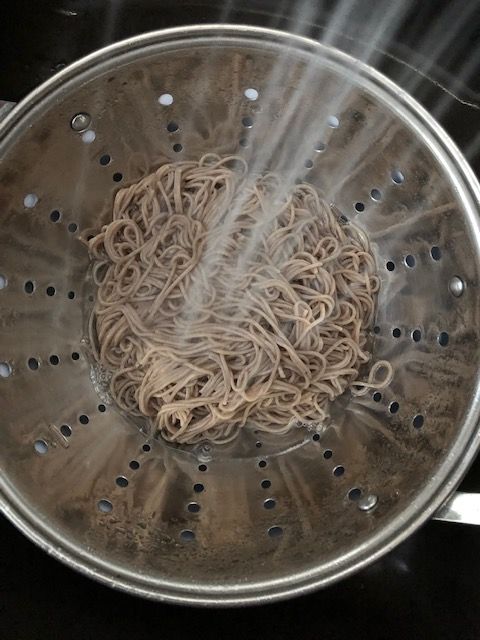 Put the *Soba noodles in bowls and pour hot noodle soup from step 10. over them. Add *Kakiage, shrimp Tempura, *Nori and green onion on top.